Each year the cooperative holds an Annual Meeting for the members, a time to discuss business items involving the cooperative, and elect members to the Board of Directors. This is a chance for you to get to know the cooperative that serves you, and for us to show you how much we value your membership!
Select the current year's page to see specific information about the upcoming annual meeting or the previous years' pages to see past events. 
Don't miss your chance to take part in this fun annual event. For more information about running for a director's position or about the Annual Meeting in general, please contact the Member Services department at the cooperative. To check out photos from past Annual Meetings, click here
Your Cooperative is Still the Light in Stormy Times (2023)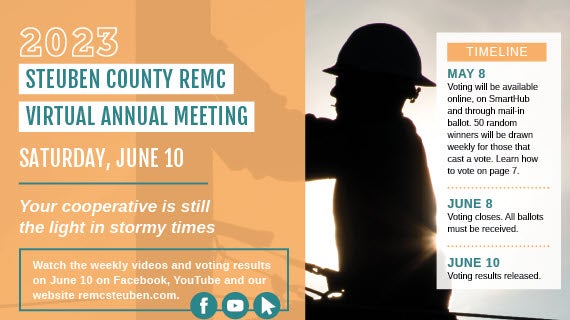 Previous Annual Meetings: 
Powering your past Connecting our future (2022)
The 2022 Annual Meeting will be held on Saturday, June 11. Check out the May 2022 issue of the Indiana Connection magazine for more details and the official notice. For more information click here or below.